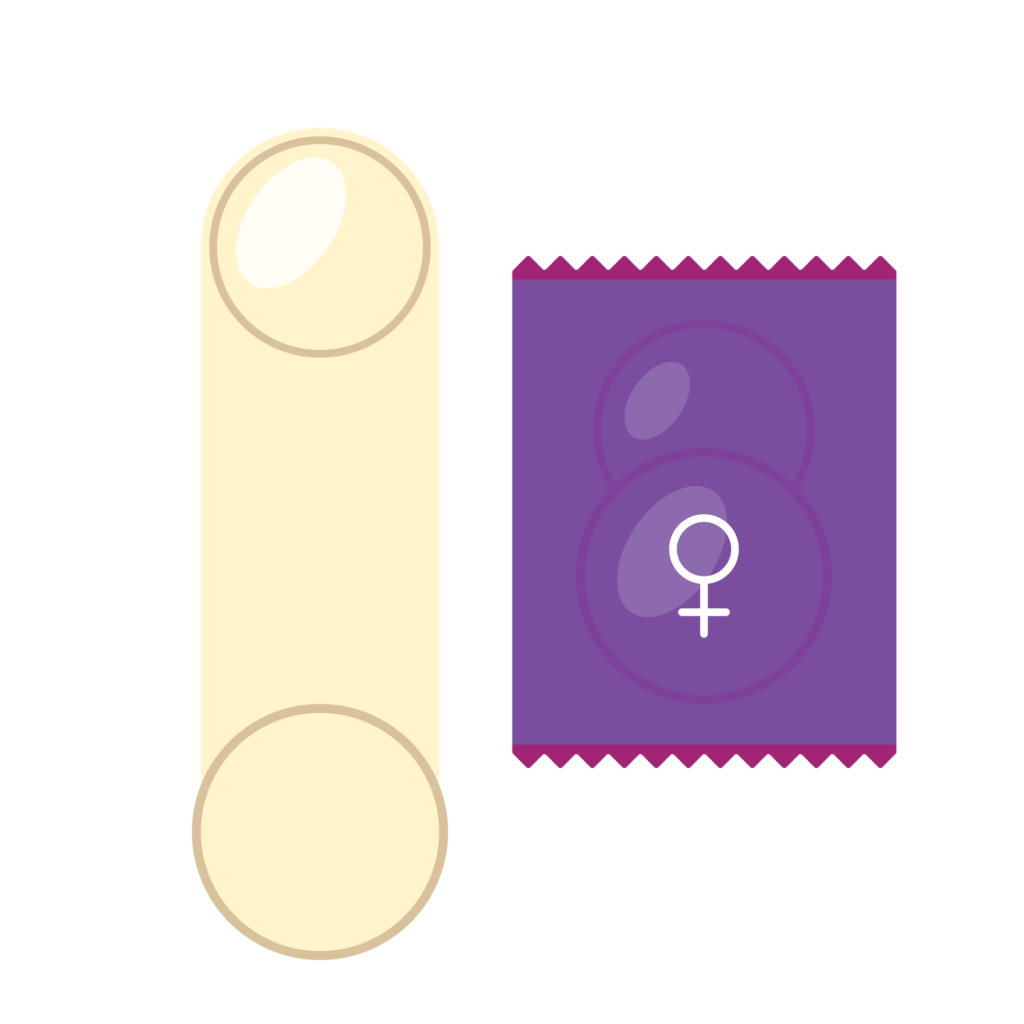 INTERNAL CONDOMS ALSO KNOWN AS FEMALE CONDOMS
PREVENTS PREGNANCY: YES; 79% EFFECTIVE
STI and HIV PROTECTION: YES
WHEN TO USE? A new condom should be used EVERYTIME you have sex
Type: Short Acting
Internal condoms — also called "female" condoms — are little nitrile (soft plastic) pouches that you put inside your vagina and are an alternative to regular condoms. They cover the inside of your vagina, creating a barrier that stops sperm from reaching an egg. If sperm can't get to an egg, you can't get pregnant. They provide the same great protection from pregnancy and STIs including HIV. What's different about them? Instead of going on the penis, internal condoms go inside your vagina for pregnancy prevention or into the vagina or anus for protection from STIs. For a long time they were called "female condoms." However, people of any gender can use them for vaginal or anal sex.
Protect against STIs? Yes! Using condoms every time you have oral, anal, or vaginal sex is the best way to reduce your chances of getting or spreading STIs. Remember dual protection is important! Condoms are the only type of contraceptive out there that also helps protect against STIs. So even if you're using another form contraceptive (like the pill), it's a good idea to also use condoms to prevent the spread of STIs.
Why would you use a female condom?
Some people say this type of condom makes sex more pleasurable – Female condoms are thinner than male condoms. This could make them feel better for you and your partner.
It covers more of the vaginal area – Because it is bigger in size, the female condom will cover your labia and the area between the vagina and the anus.
You have the power and are in control of your sexual health – You can put in the female condom up to 8 hours before you have sex. This means that you'll be ready and don't have to wait for your partner to get a condom or put one on.
Important: Do not use the female and male condoms at the same time because this will create friction that will tear the condoms. Female and male condoms are free at your local clinic so if you are thinking about having sex, make sure you pick up some condoms and use them correctly every time you have sex!